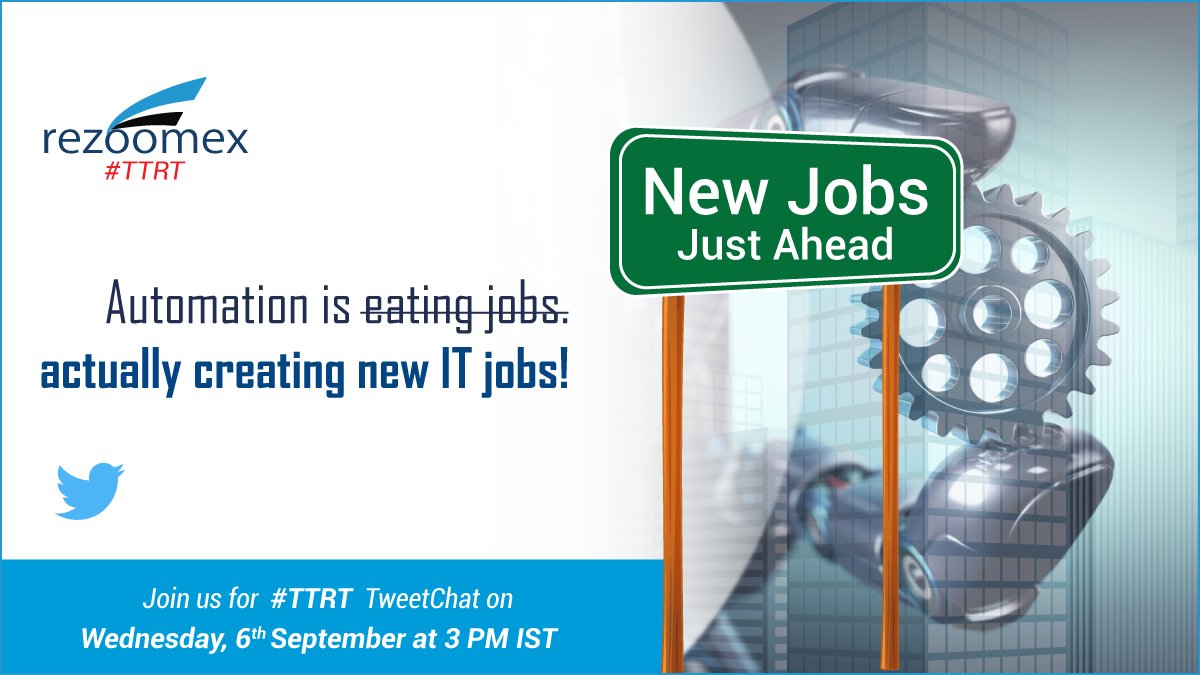 Automation Creating New IT Jobs
---
Date: 6th September,2017    |    Time: 3 pm to 4 pm (IST)    |    Online
---
About
---
There is a general perspective among people that automation is going to take away jobs. This thinking is understandable. Every other day, we read about how automation is taking away jobs. A report by US-based research firm HfS research predicts that Indian IT services industry may lose 6.4 lakh "low-skilled" jobs to automation by 2021.
Contrary to this there are experts like Google's executive chairman & ex- CEO Eric Schmidt, who believe AI will create more jobs that can't be fulfilled in the age of automation. He cited a study by Mckinsey which suggested 90 percent of jobs are not fully automatizable.
So what exactly the future holds for IT industry?
#TTRT Guest
---
An entrepreneur by heart, Atul Jadhav has over 17 years of experience in various leadership positions in the software industry, having worked in India, US & UK Atul has led large, cross-functional, globally distributed teams in delivering on challenging technology, time and quality goals and driven by the passion of building world-class engineering teams for enterprise products. Currently at Webonise, Atul is taking care of end to end delivery of highly creative products loaded with latest and greatest technology stack like Java, Closure, Scala, ROR, Various JS frameworks in Mobile, Web & IOT & Drone Space. Atul is been best known to be a product guy believes in bringing disruption in the consumer internet product space with proven track record and driven success stories from conception to funding & acquisitions.
Along with Global Delivery & Product management, Atul is also responsible for leading sales & pre-sales functions for EMEA, APAC & EU Region. Atul is committed to bringing the strategic partnership to Webonise to build the sustainable business and create success stories for Partners, Customers & Webonise.
TweetChat Questions:
---
Is automation really eating jobs or creating new ones?
Can you give examples of jobs that were taken away by automation in the past?
In the present scenario, which jobs are at risk due to automation?/li>
Recently, which IT jobs have been created by automation?
In your opinion, which industries would experience the maximum impact of automation?
How is automation creating opportunities for IT professionals in Non-IT sectors?
Which Non-IT job roles would evolve with the assistance of Chatbots, Artificial Intelligence and Machine Learning?
As an individual, what should a professional do to cope up with the changes happening in one's job due to automation?
In the next 5 years, which job roles will reap the maximum benefit of automation?
What all can management do to keep their existing workforce and make them more efficient while embracing automation?
TweetChat Story
---
Announcement: #TTRT is back again with #TweetChat – "Automation is not eating but actually creating more IT jobs" (6th Sep'17, 3PM IST) RT! pic.twitter.com/7Vk1jIX9ZV

— Rezoomex (@Rezoomex) August 30, 2017
Welcome to #TTRT Tweetchat on "Automation is not eating but actually creating new IT jobs"

— Rezoomex (@Rezoomex) September 6, 2017
We are pleased to have Mr. Atul Jadhav, VP – Product & Delivery – @webonise Lab join us. Welcome @atuljadhav | #TTRT

— Rezoomex (@Rezoomex) September 6, 2017
Thanks for having me here. I am ready take questions on effect of #Automation, #AI, #ML on Jobs #TTRT

— Atul (@atuljadhav) September 6, 2017
Q1. Is #AUTOMATION really eating #jobs or creating new ones? | #TTRT pic.twitter.com/GeMRX52GpV

— Rezoomex (@Rezoomex) September 6, 2017
A1. Looking at history, Technology & Automation has always created new jobs by taking up repetitive/mundane #TTRT #tweetchat (1/6)

— Atul (@atuljadhav) September 6, 2017
A1. work with predictable expected results. I believe human brains are more effective when used to deal with #TTRT #tweetchat (2/6)

— Atul (@atuljadhav) September 6, 2017
A1. problems with making those prediction more accurate. This leads to creation of Job types which are more #TTRT #tweetchat (3/6)

— Atul (@atuljadhav) September 6, 2017
A1. evolved yet challenging . e.g. Delivery by Drone may take up delivery jobs however this automation #TTRT #tweetchat (4/6)

— Atul (@atuljadhav) September 6, 2017
A1. itself opens up humongous amount of specialised jobs with expertise. Thus creating jobs like GIS Experts #TTRT #tweetchat (5/6)

— Atul (@atuljadhav) September 6, 2017
A1.Geospatial Data Analyst/Scientist, algorithmist, control centre operators, security experts, teaching and so on. #TTRT #tweetchat (6/6)

— Atul (@atuljadhav) September 6, 2017
#TTRT – but hundreds of delivery boys can't learn these skills – they lose their jobs!

— Vinayak Joglekar (@vinayakj) September 6, 2017
Change is hard initially, more fr the unprepared. We came a long way from #postcards to #emails.

— Nayana (@NayanaDumbre) September 6, 2017
#TTRT Just this morning I met a manual tester with 10 years experience who is unable to learn automated testing-result he is losing his job

— Vinayak Joglekar (@vinayakj) September 6, 2017
Evolve or perish, that's the mantra!
#TTRT

— Anjali (@AnjaliTwist) September 6, 2017
#TTRT some people can't evolve- either because of inaptitude or inertia

— Vinayak Joglekar (@vinayakj) September 6, 2017
A1: It will take some time to bring clarity at all levels regarding #jobs creations due to #AUTOMATION, same example Typewriters Vs PCs case

— Piyush Govil (@PG_pmp) September 6, 2017
#Automation is eating #LowSkill #Jobs but also creating more unique ones! #TTRT Some1 who isn't ready2upskill will see the job being eaten!

— Vaibhav Vijay Abdeo (@ABD_Vaps) September 6, 2017
True. #Upskilling is the way to survival & opening new avenues. #TTRT #Tweetchat https://t.co/Rfi0lIL5bi

— Nayana (@NayanaDumbre) September 6, 2017
A1: #automation is creating new #jobs but it is also removing few low-skill jobs. #TTRT

— Aditi Sharma (@aditi_sha26) September 6, 2017
It depends on the sector (IT/Non-IT) #TTRT

— Manoj Kulkarni (@kulkarni0005) September 6, 2017
I feel #AUTOMATION is more used to #automate tasks not #Jobs which will yield more free time to contribute something more productive #TTRT

— Dinesh Gokhale (@Dinesh_Gokhale) September 6, 2017
I think automation will drive the people to upskill and use their time and knowledge in a more efficient manner, hence will create more jobs

— Abhishek Bhandare (@Abhishektwitt2) September 6, 2017
Both! Eating repeataive jobs. Also creating interesting jobs where the intelligence of human brain can be applied! #TTRT

— saurabh Karnik (@Saurabh_Karnik1) September 6, 2017
Q2. Can you give examples of #jobs that were taken away by #AUTOMATION in the past? | #TTRT pic.twitter.com/xDQZtH1RBF

— Rezoomex (@Rezoomex) September 6, 2017
A2. There are plenty such examples around us. In manufacturing factories Robots has replaced workers reducing #TTRT #tweetchat (1/4)

— Atul (@atuljadhav) September 6, 2017
A2. human dependencies while significant increase in productivity. Unless very complex transaction, bank teller #TTRT #tweetchat (2/4)

— Atul (@atuljadhav) September 6, 2017
A2. job is automated, cashiers are being replaced by automated check-out machine, Telephone Operators, #TTRT #tweetchat (3/4)

— Atul (@atuljadhav) September 6, 2017
A2. Travel Agent , Typist, Film projectionists, packing labour, stockroom/warehouse managers to pilots & farmers. #TTRT #tweetchat (4/4)

— Atul (@atuljadhav) September 6, 2017
this we have seen in past, especially in the banking sector. #TTRT

— Aditi Sharma (@aditi_sha26) September 6, 2017
A2: there were many low-skilled #Jobs in past like factory workers jobs in automobile and production were removed due to #AUTOMATION #TTRT https://t.co/n6jtatAKlg

— Aditi Sharma (@aditi_sha26) September 6, 2017
Difficult to list it down but moreover the repetitive #Jobs which requires less #Human #intelligence. #Data #Entry, call center #Jobs #TTRT https://t.co/g2bOef0yFY

— Dinesh Gokhale (@Dinesh_Gokhale) September 6, 2017
#TTRT A.2 Several production level #jobs in factories are all automated now #carindustry #fmcg

— hiringplug™ (@hiringplug) September 6, 2017
True #automobile industry was also been affected due #AUTOMATION #TTRT

— Aditi Sharma (@aditi_sha26) September 6, 2017
Ex:As basic as #weavers,#knitters,#typists,#secretaries,#Milkmen 2 #Cashiers,#Packers.So d #Jobs tht r non-prodctiv & #Lowskill r lost #TTRT

— Vaibhav Vijay Abdeo (@ABD_Vaps) September 6, 2017
in today's time all these jobs need some #reskilling and #upskilling #TTRT

— Aditi Sharma (@aditi_sha26) September 6, 2017
#TTRT– Manufacturing and Automotive Industries!

— Justina Samanta (@JustinaSamanta) September 6, 2017
A2. Ticket booking, security, etc. are the jobs which require just execution of the command are being eaten away by automation

— Abhishek Bhandare (@Abhishektwitt2) September 6, 2017
A2. Application Tracking Systems took away the database jobs #TTRT @Rezoomex

— juhi gupte (@juhigupte) September 6, 2017
#DriverlessCars also will soon be a commonplace reality. #Automation #TTRT

— Nayana (@NayanaDumbre) September 6, 2017
Mainly #ManualTesting in #IT and #ITES. Clerical jobs in process driven industries. Assembly line jobs. #TTRT

— saurabh Karnik (@Saurabh_Karnik1) September 6, 2017
Q3. In the present scenario, which #jobs are at risk due to #AUTOMATION? | #TTRT pic.twitter.com/5WfWZXxeNL

— Rezoomex (@Rezoomex) September 6, 2017
A3. research says by 2021,4 out of 10 jobs will be lost to automation. Jobs in low skills or highly transactional & can harness #TTRT (1/5)

— Atul (@atuljadhav) September 6, 2017
A3. on AI & ML for analytics & decision making are in great risk. Taxi & Truck Drivers, Daimler, Tesla & Google already on it, #TTRT (2/5)

— Atul (@atuljadhav) September 6, 2017
A3. Nursing & Health care, Insurance Underwriters, Geographers, Nuclear Technicians, Financial Advisors, News Reporters, Loan #TTRT (3/5)

— Atul (@atuljadhav) September 6, 2017
A3. officers, Accountants & Auditors. I would more put it like 4 out of 10 jobs will have next level evolution, different set of #TTRT (4/5)

— Atul (@atuljadhav) September 6, 2017
A3. OKRs to serve much more evolved customer demand and business model. #TTRT (5/5)

— Atul (@atuljadhav) September 6, 2017
#Jobs@Risk4 #Automation:BankTellers,Insurance Agents,Cnstrctn Labor,Fincial Analyst,Journalist,MovieStars,Farmers,TaxiDrivers,ITTalent #TTRT

— Vaibhav Vijay Abdeo (@ABD_Vaps) September 6, 2017
#ttrt Survival of the fittest! Evolution takes the livelihood out of some lives

— Vinayak Joglekar (@vinayakj) September 6, 2017
#Jobs@Risk4 #Automation:BankTellers,Insurance Agents,Cnstrctn Labor,Fincial Analyst,Journalist,MovieStars,Farmers,TaxiDrivers,ITTalent #TTRT

— Vaibhav Vijay Abdeo (@ABD_Vaps) September 6, 2017
in today's time all these jobs need some #reskilling and #upskilling #TTRT

— Aditi Sharma (@aditi_sha26) September 6, 2017
A3: routine, repetitive types of #jobs are highly at risk, like #BPO/KPO, data entry, #software operations, infrastructure management #TTRT

— Aditi Sharma (@aditi_sha26) September 6, 2017
A3. Jobs of monotonous & repetitive nature will be sacrificial goats for #Automation. 3 of 10 jobs would be redundant within 2-3 years #TTRT

— Nayana (@NayanaDumbre) September 6, 2017
Edit – Research already claims 4 of 10 jobs of today will be lost by 2021. Thanks @atuljadhav #TTRT

— Nayana (@NayanaDumbre) September 6, 2017
In my opinion, it wont be lost but will be replaced by different roles. One has to #Evolve. #AUTOMATION is to empower #TTRT

— Dinesh Gokhale (@Dinesh_Gokhale) September 6, 2017
I agree only partially. Ex. Jobs for #Labourers #Cattle in agriculture are entirely lost to #automised machines with no alternate job fr 1/2

— Nayana (@NayanaDumbre) September 6, 2017
Debatable topic though 😃. We are humans, will certainly have different perspectives. #TTRT

— Dinesh Gokhale (@Dinesh_Gokhale) September 6, 2017
Absolutely! 👍🏻🙂

— Nayana (@NayanaDumbre) September 6, 2017
#AssemblyLine. Platforms for #Processess automation. #CAE n #CED in designs. #IOT where data needs to be collected and processed #TTRT (1/2)

— saurabh Karnik (@Saurabh_Karnik1) September 6, 2017
Q4. Recently, which #ITjobs have been created by #AUTOMATION? | #TTRT pic.twitter.com/s08YTa60kN

— Rezoomex (@Rezoomex) September 6, 2017
A4. Technology is evolving faster than ever,IBM Watson, Google's Deep Neural Network and several other AI & ML platform require #TTRT (1/6)

— Atul (@atuljadhav) September 6, 2017
A4. humans with skills to extend the platform to various use cases, system integrators, Robotic Process Automation (RPA) #TTRT (2/6)

— Atul (@atuljadhav) September 6, 2017
A4. implementers for work flow optimisation, Skills like DevOps are high in demand due to sheer value they bring on board #TTRT (3/6)

— Atul (@atuljadhav) September 6, 2017
A4. to further automate the Developer's Operation via Continuous Integration & Continuous Development and effective use of #TTRT (4/6)

— Atul (@atuljadhav) September 6, 2017
A4. infrastructure resources which reduce down Go To Market time for new product or services along #TTRT (5/6)

— Atul (@atuljadhav) September 6, 2017
A4. high efficiency and optimised cost. #TTRT (6/6)

— Atul (@atuljadhav) September 6, 2017
A4:#ITJObs viz. #AutomationTesting,#RPA,#DevOps,#AI,#cloudcomputing,#crowdfunding,#CrowdSourcing,#Animation hv opnd up by #Automation #TTRT

— Vaibhav Vijay Abdeo (@ABD_Vaps) September 6, 2017
A4: #DataScientist #NLP practitioner #BigData Architect are in picture because of #AUTOMATION , #AI and #ML #TTRT

— Aditi Sharma (@aditi_sha26) September 6, 2017
Q5. In your opinion, which #industries would experience the maximum impact of #AUTOMATION? | #TTRT pic.twitter.com/7rcqpGHA8G

— Rezoomex (@Rezoomex) September 6, 2017
A5. Businesses today are striving for enhanced last mile customer experience. They are building products & services which will #TTRT (1/9)

— Atul (@atuljadhav) September 6, 2017
A5. help them to achieve the same in effective way and in lesser time. At the same time businesses today are collecting lot of #TTRT (2/9)

— Atul (@atuljadhav) September 6, 2017
A5. data about behaviour, productivity, issues irrespective of nature of business being B2B or B2C. Imagine our car goes & #TTRT (3/9)

— Atul (@atuljadhav) September 6, 2017
A5. refuel itself from the nearest gas station while we sit in our office focusing on work or spending time with family without #TTRT (4/9)

— Atul (@atuljadhav) September 6, 2017
A5. worrying much about gas level or spending that extra 10 mins @ gas station required for refuel to the level where our car is #TTRT (5/9)

— Atul (@atuljadhav) September 6, 2017
A5. connected with service station 24/7, when there is a time car goes and get the servicing done from fully automated service #TTRT (6/9)

— Atul (@atuljadhav) September 6, 2017
A5. which already knows the vitals about my car along with exact issues. And this day is not so far. So almost all industries #TTRT (7/9)

— Atul (@atuljadhav) September 6, 2017
A5. are going to leverage the power of #AI, #ML & #Automation. To name a few Healthcare, Farming, Manufacturing, Transportation, #TTRT (8/9)

— Atul (@atuljadhav) September 6, 2017
A5. Customer Service, finance & Defence. #TTRT (9/9)

— Atul (@atuljadhav) September 6, 2017
#Jobs that didn't exist 10 years before #TTRT pic.twitter.com/6irTQlpPtC

— Aditi Sharma (@aditi_sha26) September 6, 2017
#ttrt We are all running on a treadmill. Running hard to stay where we are! And the speed is increasing continuously. e.g.#DevOps to #NoOps

— Vinayak Joglekar (@vinayakj) September 6, 2017
A5:IMO,#Manufacturing,#CustomerCare,#Retail,#Transportation,#RealEstate,#Administration,#Agriculture & many more will b impacted #TTRT

— Vaibhav Vijay Abdeo (@ABD_Vaps) September 6, 2017
#AUTOMATION need of the hour #learnbeforeyouloose #TTRT

— Manu Gupta (@manugupta_27) September 6, 2017
A5: Core #industries would experience the maximum impact of #AUTOMATION & in turn IT organization will benefit | #TTRT

— Piyush Govil (@PG_pmp) September 6, 2017
@PG_pmp right now every industry is having Tech department. #TTRT

— Aditi Sharma (@aditi_sha26) September 6, 2017
True…however upgrading to latest technology will be a challenge to put effort in terms of cost & skill set #TTRT

— Piyush Govil (@PG_pmp) September 6, 2017
A5: #CustomerService #Finance #Transportation #Manufacturing these are the few industries that are at high risk #TTRT

— Aditi Sharma (@aditi_sha26) September 6, 2017
#manufacturing #IT #Healthcare #Pharma #weatherforecasts will experience the impact@Rezoomex #TTRT

— juhi gupte (@juhigupte) September 6, 2017
Q6. How is #AUTOMATION creating opportunities for #IT professionals in Non-IT sectors? | #TTRT pic.twitter.com/3OLWy5aw2b

— Rezoomex (@Rezoomex) September 6, 2017
A6. Answer is simple, to build these smart systems we require skilled IT professionals who are not only great on developing #TTRT (1/6)

— Atul (@atuljadhav) September 6, 2017
A6. solutions based on intelligent platforms but who are also great on re-skilling themselves. As Non-IT sectors are heavily #TTRT (2/6)

— Atul (@atuljadhav) September 6, 2017
A6. driven by IT and dependency of Non-IT businesses on IT will increase day by day, importance of IT guys in non-IT sector #TTRT (3/6)

— Atul (@atuljadhav) September 6, 2017
A6. will be more than ever to maintain existing system, to cater new business cases, to alter existing business cases while #TTRT (4/6)

— Atul (@atuljadhav) September 6, 2017
A6. ensuring the data security. The government rules and regulations will evolve based on various learnings as a outcome of an #TTRT (5/6)

— Atul (@atuljadhav) September 6, 2017
A6. automation which opens up altogether new doors of career for IT professionals in Non-IT sectors. #TTRT (6/6)

— Atul (@atuljadhav) September 6, 2017
A6: 1/1 Right now every company is a #Software company. @Ford sells computers-on-wheels. @McKinsey hawks consulting-in-a-box. #TTRT

— Aditi Sharma (@aditi_sha26) September 6, 2017
A6: 1/2 @FedEx boasts a developer skunkworks https://t.co/KLWa0yqvZB #TTRT #AUTOMATION #technology

— Aditi Sharma (@aditi_sha26) September 6, 2017
#TTRT A6. IT is employed in every industry today, Manufacturing, agriculture, logistics, recruitment, teaching providing opportunies

— hiringplug™ (@hiringplug) September 6, 2017
#TTRT @hiringplug All companies are software companies https://t.co/OggqUqnx5i

— Vinayak Joglekar (@vinayakj) September 6, 2017
A6. For automation, actions has to be logically transformed into an understandable data for machines, so need of IT professionals.

— Abhishek Bhandare (@Abhishektwitt2) September 6, 2017
A6. #AUTOMATION may create opportunities for #IT professionals in terms of upcoming AI/ML related different tools/platforms | #TTRT

— Piyush Govil (@PG_pmp) September 6, 2017
@salesforce has a program called Einstein – which is automating AI/ML modelling

— Vinayak Joglekar (@vinayakj) September 6, 2017
@PG_pmp right now every industry is having Tech department. #TTRT

— Aditi Sharma (@aditi_sha26) September 6, 2017
A6:It is helping them in:being more productive,sharpenng their skills,focusing on #Analytics & #research;#Data & #Insights spcfc work #TTRT

— Vaibhav Vijay Abdeo (@ABD_Vaps) September 6, 2017
#AssemblyLine. Platforms for #Processess automation. #CAE n #CED in designs. #IOT where data needs to be collected and processed #TTRT (1/2)

— saurabh Karnik (@Saurabh_Karnik1) September 6, 2017
#Production and #Maintainance in #Manufacturing. #Automation in orders and billing in Hotels n Malls. #Transportation #TTRT

— saurabh Karnik (@Saurabh_Karnik1) September 6, 2017
Q7. Which Non-IT job roles would evolve with the assistance of #chatbots, #ArtificialIntelligence (#AI ) and #MachineLearning? | #TTRT pic.twitter.com/WepZcjmStK

— Rezoomex (@Rezoomex) September 6, 2017
A7. Product Designers, Data Scientist, Digital Marketing, Actuary, offline auditors & validators, e-tailors, health care #TTRT (1/5)

— Atul (@atuljadhav) September 6, 2017
A7. professionals, legal advisors. Almost every job in existence today will have next level evolution. Automation & Technologies #TTRT (2/5)

— Atul (@atuljadhav) September 6, 2017
A7. like AI, ML will bring facts, research applicable to a situation or an individual seeking solution, thus doing relevant #TTRT (3/5)

— Atul (@atuljadhav) September 6, 2017
A7. cross-sale / up-sale of products & services, Chatbots delivers this to end user in constructive and interactive manner. #TTRT (4/5)

— Atul (@atuljadhav) September 6, 2017
A7. In many cases final decisions still have to be made by humans. #TTRT (5/5)

— Atul (@atuljadhav) September 6, 2017
A7: 1/1 These are the NON IT #jobs that include #Creative skills, Human touch, #networking will get more benefitted due to automation #TTRT

— Aditi Sharma (@aditi_sha26) September 6, 2017
A7: 1/2 #recruitments industry is in top #TTRT

— Aditi Sharma (@aditi_sha26) September 6, 2017
A7: 1/2 #recruitments industry is in top #TTRT

— Aditi Sharma (@aditi_sha26) September 6, 2017
A7:Anythng tht involvs mundane,admnstrtive or spprt work!Besides tht #AssemblyLine,#Construction,#BFSI,#Logistics,#SupplyChain r a few.#TTRT

— Vaibhav Vijay Abdeo (@ABD_Vaps) September 6, 2017
#TTRT– A7. Financial and insurance sectors are the ones that have maximum number of various application services.

— Justina Samanta (@JustinaSamanta) September 6, 2017
#TTRT– A7. Travel and transport sector as well.

— Justina Samanta (@JustinaSamanta) September 6, 2017
10 high skill #IT #Jobs that will be on demand in the era of #AUTOMATION #TTRT pic.twitter.com/2ExGAyI1RN

— Aditi Sharma (@aditi_sha26) September 6, 2017
Q8. As an individual, what should a professional do to cope up with the changes happening in one's #job due to #AUTOMATION? | #TTRT pic.twitter.com/dNVqm96wKb

— Rezoomex (@Rezoomex) September 6, 2017
A8. During my graduation 20 years back, finding out people to seek new knowledge was tremendously difficult. Not because there #TTRT (1/10)

— Atul (@atuljadhav) September 6, 2017
A8. were no knowledgeable people around, but access to such resources was extremely difficult. However technology has changed #TTRT (2/10)

— Atul (@atuljadhav) September 6, 2017
A8. everything. Today not knowing something is individual choice. There are ample resources available on touch of a screen, #TTRT (3/10)

— Atul (@atuljadhav) September 6, 2017
A8. free and paid, in the form of video, text, guides which can be leveraged by an individual to re-skill his/her skills. #TTRT (4/10)

— Atul (@atuljadhav) September 6, 2017
A8. When I see programmers as young as 7 years hosting key notes on IBM Watson and actively contributing to AI & ML, #TTRT (5/10)

— Atul (@atuljadhav) September 6, 2017
A8. it boost my confidence as an Individual & professional. Professionals needs to start being more curious about what they are #TTRT (6/10)

— Atul (@atuljadhav) September 6, 2017
A8. doing, why they are doing, how it is impacting the businesses they are working for.What's all happening around the world to #TTRT (7/10)

— Atul (@atuljadhav) September 6, 2017
A8. bring next level disruption in their job role & chart the course of skill acquisition plan well in advance to future ready #TTRT (8/10)

— Atul (@atuljadhav) September 6, 2017
A8. It is not very different when we do financial investment to expect certain amount of returns in future. #TTRT (9/10)

— Atul (@atuljadhav) September 6, 2017
A8. Here it's investment of self and it has to be continuous process. #TTRT (10/10)

— Atul (@atuljadhav) September 6, 2017
A8: People have to work on their creativity, T-shaped skills and #reskilling is also required from time to time #TTRT

— Aditi Sharma (@aditi_sha26) September 6, 2017
A8: Only way out to upgrade/acquire new skills continuously #job #AUTOMATION? | #TTRT

— Piyush Govil (@PG_pmp) September 6, 2017
#TTRT A8 :Try making the change instead of coping with it

— Vinayak Joglekar (@vinayakj) September 6, 2017
#TTRT A8. #Upskilling, #training consistently especially with the focus of adopting new technology and keeping up with trends

— hiringplug™ (@hiringplug) September 6, 2017
#TTRT A8. Does it always mean old skill sets will become obsolete or require redesigning them to new tasks? @atuljadhav

— hiringplug™ (@hiringplug) September 6, 2017
keeping oneself updated. Automation will ignite people to keep going and evolve themselves professionally

— Abhishek Bhandare (@Abhishektwitt2) September 6, 2017
Equip, Upgrade and Re-skilling are the mantras to tackle changes #TTRT @Rezoomex

— juhi gupte (@juhigupte) September 6, 2017
A8:Be open to learn,adapt,upgrade,upskill.Analyzing wht r d threats2existing #skills due2 #Automation.'Killing it by unlearning it' #TTRT

— Vaibhav Vijay Abdeo (@ABD_Vaps) September 6, 2017
Acquire the skills inclined with future jobs! Be familiar with #automation and #AI platforms which will be helpful in future #TTRT

— saurabh Karnik (@Saurabh_Karnik1) September 6, 2017
Q9. In the next 5 years, which #job roles will reap maximum benefit of #AUTOMATION? | #TTRT pic.twitter.com/nBeQT1jjUQ

— Rezoomex (@Rezoomex) September 6, 2017
A9. Roles having more cognitively demanding jobs will be valued more than ever. Just to put it in perspective traditional tailors are #TTRT

— Atul (@atuljadhav) September 6, 2017
A9. almost been replaced by ATMs, reduce the running capital for bank and tailors started more focusing on customer relationship #TTRT

— Atul (@atuljadhav) September 6, 2017
A9.selling products which are relevant to retail/corporate banking customer,more time been spent to understand intricacies of business #TTRT

— Atul (@atuljadhav) September 6, 2017
A9. which are been served by banks and provide a designer solution to cater business need.What does all this results into increase in #TTRT

— Atul (@atuljadhav) September 6, 2017
A9.customer satisfaction, increase in sales for both banks & their customers, so increase in number of branches and increase in number #TTRT

— Atul (@atuljadhav) September 6, 2017
A9. of tailors jobs. Same applies for any job role which is considered to be under threat due to automation (Construction, Healthcare, #TTRT

— Atul (@atuljadhav) September 6, 2017
A9. Services etc..). improvement in tools & automation, increases the importance of human expertise, creativity & judgments. #TTRT

— Atul (@atuljadhav) September 6, 2017
A9. Having said this, let's not ignore the fast pace evolution going on in AI and ML and cognitive capabilities been built around them #TTRT

— Atul (@atuljadhav) September 6, 2017
A9. making them more and more self conscious. Sooner or later there will be time where no human is required to do 40% to 50% jobs #TTRT

— Atul (@atuljadhav) September 6, 2017
A9. jobs which exist today but that may not essentially mean 50% population will be without jobs. #TTRT

— Atul (@atuljadhav) September 6, 2017
A9: every job role that includes human interaction will reap max. few of them are #recruitment #CustomerService #couriersservices #TTRT

— Aditi Sharma (@aditi_sha26) September 6, 2017
A9 software development, pharma, publishing, healthcare #automation #TTRT @Rezoomex

— juhi gupte (@juhigupte) September 6, 2017
#TTRT A9: I hate it when an AVR responds to my complaints. I need a human being who can empathise with me

— Vinayak Joglekar (@vinayakj) September 6, 2017
A9:Wth a large amt of diverse information,#skill-based roles viz #datascientist,#designer& #digitalmarketing experts r here2stay. #TTRT

— Vaibhav Vijay Abdeo (@ABD_Vaps) September 6, 2017
Q10. What all can management do to keep their existing workforce and make them more efficient while embracing #AUTOMATION? | #TTRT pic.twitter.com/ZhduBwW92J

— Rezoomex (@Rezoomex) September 6, 2017
A10. If this is challenge for jobs then it is definitely a challenge for businesses who are producing these jobs. Management has to #TTRT

— Atul (@atuljadhav) September 6, 2017
A10. invest on fostering the culture of multi skill acquisition by their employees. Investment should be done proactively to introduce #TTRT

— Atul (@atuljadhav) September 6, 2017
A10.these disrupting technologies into work environment,provide trainings to employees to boost their confidence on these technologies #TTRT

— Atul (@atuljadhav) September 6, 2017
A10. As a business @Webonise is helping lot of our clients implementing Robotic Process Automation #RPA, #IoT solutions. This demands #TTRT

— Atul (@atuljadhav) September 6, 2017
A10. As a business @Webonise is helping lot of our clients implementing Robotic Process Automation #RPA, #IoT solutions. This demands #TTRT

— Atul (@atuljadhav) September 6, 2017
A10. for the workforce which has/ready to acquire skills required to develop, implement & maintain these solutions. Thus creating jobs #TTRT

— Atul (@atuljadhav) September 6, 2017
A10. opportunities for employees of @Webonise but for the businesses we are building solutions for. It's experimental time for #TTRT

— Atul (@atuljadhav) September 6, 2017
A10. everyone and only time will tell if this is Automation vs Human or Automation & Humans. Being a person of pragmatic nature, #TTRT

— Atul (@atuljadhav) September 6, 2017
A10. I believe it will be more of collaborative nature if we take competition in right spirit #TTRT

— Atul (@atuljadhav) September 6, 2017
A10 Management should develop Training programs ,Training Need Analysis and Reskilling programs #automation #TTRT

— juhi gupte (@juhigupte) September 6, 2017
A10 address the fear positively and give them the context of the fit-gap analysis#AUTOMATION #TTRT

— juhi gupte (@juhigupte) September 6, 2017
A10: #AUTOMATION? | #TTRT develop a learning culture & motivate every employee to keep learning & upgrade their skills as tech advances

— Piyush Govil (@PG_pmp) September 6, 2017
#TTRT A10.Strategic planning, training programs to #upskill staff and #redefining roles to meet industry's #demand

— hiringplug™ (@hiringplug) September 6, 2017
#TTRT A10: Forecast the upcoming changes. Tell Everyone what their next job will be like. Spare no one. There is no permanent job

— Vinayak Joglekar (@vinayakj) September 6, 2017
A10:Do #GapAnalysis,Create awareness,encourage ppl2 #Reskill by letting thm knw d impact&nt by thrtening,define #Learning Objectives! #TTRT

— Vaibhav Vijay Abdeo (@ABD_Vaps) September 6, 2017
A10: #management should avoid new hiring they should focus on current workforce and try to reskill them in the era of #Automation #TTRT

— Aditi Sharma (@aditi_sha26) September 6, 2017
Lay offs are equally important

— juhi gupte (@juhigupte) September 6, 2017
Refitment of jobs can be opted for #AUTOMATION #TTRT

— juhi gupte (@juhigupte) September 6, 2017
#TTRT– A10. They can give a realistic perspective on what the future holds for both the human and the automated worker.

— Justina Samanta (@JustinaSamanta) September 6, 2017
#TTRT-A10.Those who can adapt to the changes caused by technology through education & training might find more satisfying work in the future

— Justina Samanta (@JustinaSamanta) September 6, 2017
Identify Future #Skills. Craft #training program. Make #employees competent for the #Future! @webonise have trained resources for #RPA #TTRT

— saurabh Karnik (@Saurabh_Karnik1) September 6, 2017
Stay positively inquisitive, encourage #upskilling on #Automation, #AI, #IoT & be ready to #innovate.

— Nayana (@NayanaDumbre) September 6, 2017
A10. Correct guidelines via ML proven and tested by time…

— Ketan Kapoor B (@CareerAtTop) September 6, 2017
#TTRT @atulJadhav Are there any jobs that can never be automated? Artists, Salesmen, Politicians!

— Vinayak Joglekar (@vinayakj) September 6, 2017
most of the creative jobs requiring #human #Intelligence is difficult to #automate. #machines are there to empower us not to replace. #TTRT

— Dinesh Gokhale (@Dinesh_Gokhale) September 6, 2017
#TTRT #tweetchat @atuljadhav Surfing the 4th Industrial Revolution (Artificial intelligence) is it true?

— Ketan Kapoor B (@CareerAtTop) September 6, 2017
#TTRT #tweetchat @Rezoomex @atuljadhav After WWII automation in manufacturing industry took jobs so this time is it IT Sector?

— Ketan Kapoor B (@CareerAtTop) September 6, 2017
Unemployment @ WWII with 2.3B population was 1.2% vs year 2016 4.7% for 7.3B pupation. Statistics says nothing has changed much #TTRT

— Atul (@atuljadhav) September 6, 2017
Absolutely Agreed #TTRT

— Atul (@atuljadhav) September 6, 2017
#TTRT #tweetchat @Rezoomex @atuljadhav Who will validate this process, is it time or we have tools in place?

— Ketan Kapoor B (@CareerAtTop) September 6, 2017
Validation is integral part of the process, There are certain tools in place and these tools will become more mature over the time #TTRT

— Atul (@atuljadhav) September 6, 2017
#TTRT #tweetchat @Rezoomex @atuljadhav Will ML able to set right guidelines for AI?

— Ketan Kapoor B (@CareerAtTop) September 6, 2017
Yes, Evolved #ML will be able to derive SOPs & Guidelines for #AI as no business can operate without Standard Operating Procedures #TTRT

— Atul (@atuljadhav) September 6, 2017
We have come to the end of #TTRT tweetchat. Thank you @atuljadhav for joining us. It has been an enlightening session.

— Rezoomex (@Rezoomex) September 6, 2017
Thanks to all recruiters for joining #TTRT tweetchat with Mr. Atul Jadhav @atuljadhav on automation creating new IT jobs.

— Rezoomex (@Rezoomex) September 6, 2017
Thanks everyone for meaningful session. I will respond to the questions asked during the session #TTRT

— Atul (@atuljadhav) September 6, 2017
See you soon in the next #TTRT tweetchat. Have a great day!

— Rezoomex (@Rezoomex) September 6, 2017